Imagine what it would be like to have more than one online course up and running.
More happy students.
More income flowing into your bank account.
And more chances to boost your positive impact and change lives.
But sometimes it feels like all you can do to just get your first course out the door.
You dream of the day when you have a whole catalog of courses for people to choose from.
And you hope you get there — some day.
So how do you move from your first course to your second (or fifth)?
We interviewed Dawn Power to hear her story, and to help you envision your path to multiple online courses.
Introducing… Dawn
Dawn is a Naturopath, Counsellor, Reiki Master, life coach and long time-meditator who incorporates EFT (emotional freedom technique) in her healing sessions.
After completing her Reiki Master training in 1999, Dawn started a business doing counseling and Reiki with her clients. Through the years, she continued to study other related subjects to deepen the services she provides — including several different forms of meditation, health and nutrition, and natural medicine.
She now offers in-person healing work, as well as both offline and online courses, and offers intuitive healings to clients who cannot travel to work with her.
Through her years of experience and creating multiple online courses, she's learned a lot.
Today, she's happy to share those lessons with you.
Ruzuku: What motivated you to start teaching online courses?
Dawn: At the start of this year I participated in my first on line course and I loved it.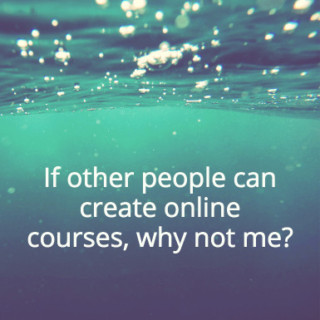 The course was in audio format for easy listening on my phone or iPad.
And even though I finished the course I can still go back and review what I learned. I love the concept of having lifetime access to course material.
It was while I was taking that course that I thought, "I can create my own online courses".
At the time, I wasn't happy in the job I was in. I have been practicing and teaching alternative health for over 20 years, but I've always had to keep other jobs to pay the bills.
The more I worked through that online course, the more I started to research how the instructor did what he did. Through the process, I found a whole world of online teaching that I didn't realize existed.
I decided to record what I knew and turn it into an online course. At the same time I was searching for a platform that would be best for the subject matter I teach — and I found Ruzuku!
R: What goal did you set for your courses? What did you hope to achieve?
D: I didn't set any specific goals for my courses because I didn't really know what I was doing when I first started out.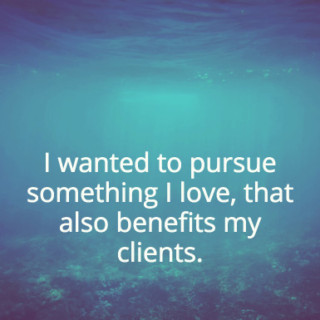 At first I offered the online audio version to students who were taking in-person courses with me.
I priced the course accordingly, making sure to cover my time and expenses.
This also made my life a lot easier, because the students who had access to the audio version ended up not contacting me as often with questions — while also feeling very supported from week to week.
What I hoped to achieve with online teaching was the freedom to create my own hours, unchain myself from a job I didn't want to be in, and instead do something that I love (that also benefits my clients and students).
I'm happy to report that I've achieved these goals!
Where do you get your ideas for course topics?
My ideas for course topics come from over 20 years of learning about alternative health.
My brother died of cancer at the age of 35 and that experience awakened a belief within me that we can heal naturally. I have never liked doctors or hospitals, so it made sense for me to study alternative medicine. The more I learned, the more I found I could help people heal ailments through their minds or through food.
I'm fortunate to have learned alternative methods of healing from some of the best teachers in the world — in Australia, India and Indonesia. Along the way, I've studied naturopathy, Reiki, counseling, psychotherapy, metaphysics, yoga of the mind, and more.
I've packaged that experience into two courses so far, with a third set to release in October. I think it's absolutely wonderful that I can now share all this knowledge and experience through online learning.
What's the biggest challenge you faced as you created multiple online courses?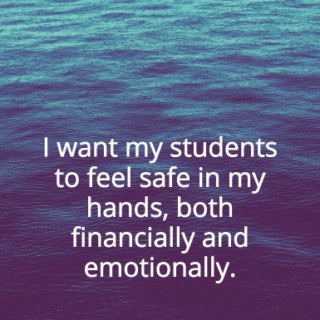 So far I only have three online courses (plus a free short course) so its not too hard to manage right now!
However, I've learned to be more attentive to incoming email so I don't miss questions from my students or notifications when a new student signs up.
I also want to be as professional as possible in how I handle everything – from student correspondence to bookkeeping – because each aspect of my business reflects back to my students.
I want my students to feel safe in my hands – financially and emotionally – so that we can build a relationship based on trust.
What have you learned from that challenge?
Being professional in the way I handle my business and making sure that my students feel financially and emotionally secure really pays off. A lot of my business comes from word of mouth via students who have completed my courses.
And even though I didn't know anything about marketing my courses when I first started out, I've been learning. I now know how to run email and social media campaigns to promote my courses.
How has offering online courses impacted your overall business?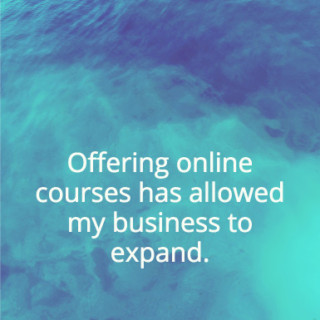 Offering on line courses has allowed my business to expand.
When I first started out, I was just consulting from home or consulting and teaching through a small shop nearby.
By offering my courses online, I have opened up a market to the whole world.
At first, this was a frightening thought! But as I have more contact with people in other countries I now feel close to all of my students — wherever they are.
How do you build relationships and connect with your students?
I give anyone who buys my online course as much email or phone support as they need.
I also check in via email every few days to see how my students are doing with the course material. I always like to make sure students don't feel alone in their healing journey, so I make sure they know I'm available to call or write to any time.
This level of personal attention helps build great relationships — both while they're doing the course and after they're finished.
What are your plans for the future?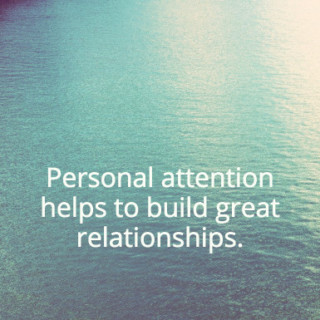 My short-term plan revolves around the release of my third course in October.
I also want to make a video explaining how to make an Indonesian health tonic that's great for the digestive system. I make this tonic for myself, and I want to share that knowledge with my students.
And my long-term plan involves using my courses – and my healing business – to raise awareness of and reduce the prevalence of sickness and depression in today's world.
What are your top tips for our readers who are trying to get more than one online course out into the world?
1. Build a strong internal foundation.
Make sure you feel confident with what you are doing – and that you can keep up with what you already have going – before adding anything else to your plate.
2. Put on your blinders.
Don't worry what anybody else is doing online. Stay focused on your area of expertise, stay passionate, and don't give up. If your first idea doesn't take off, maybe your next idea will.
3. Don't be afraid to ask questions.
I didn't know anything about teaching online before I started my online courses.
It was only through asking a lot of questions, researching, and getting help from the Ruzuku team that I got my courses running smoothly.
Where can readers find you online?
The best place to learn more about me or my online courses is at my website or Facebook page.
From your first course to a full course catalog
It can be overwhelming just thinking about getting your first course out the door, much less thinking ahead to when you'll have multiple courses available for your students.
But as you can see from Dawn's experience, it is possible.
And I guarantee that you'll learn a ton along the way.
The process might even be fun!
Imagine how great it will feel to have multiple courses for your students to choose from.
And how big of an impact you'll have when you can offer more to your audience.
So as you're working with students in your first online course, start making a list of other ways that you can help them.
Before you know it, you'll be creating your next online course!
What are your takeaways from Dawn's experience with building multiple online courses? Is there anything you can apply to your business today? Let us know in the comments!