It's hard out there for an artist.
Gone are the olden days of arts patronage, where kings and other well-to-do business owners supported their favorite musicians and painters.
It's no wonder that so many aspiring artists feel like the only way to make a living as an artist is to get a full time job and do their art on the side… or commit themselves to the lifestyle of a starving artist.
But what if it didn't have to be that way?
What if there was a way to make a living doing what you really love and teaching others to do the same?
Turns out, it's not just a dream — and this month's spotlight is here to show you how it's done.
Introducing… Nicola
Nicola is a textile artist who lives and works from an old renovated stone farmhouse in rural Ireland. She delivers regular felting and eco printing workshops in Ireland, Northern Ireland, the United States, Canada, Portugal, and Australia.
Nicola loves nothing better than to wander the fields and lanes surrounding her home gathering hedgerow materials as she goes. Combined with wool, silk, linen or hand made felt, these leaves, seed pods and twigs then become the raw materials used to print a timeless and sophisticated collection of wearable art and interior accessories.
She spent the last 7 years traveling and facilitating workshops, but wanted the flexibility to spend more time at home while also making a living.
Today, she shares her experience with making that dream a reality.
Ruzuku: What motivated you to start teaching online courses?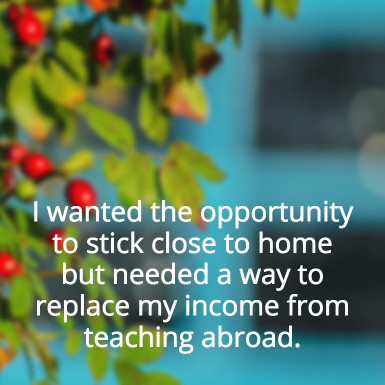 Nicola: Since 2009 I have enjoyed traveling and facilitating regular textile workshops.
I wanted the opportunity to stick close to home for a year or two to make some much needed repairs to my house and garden but needed a way to replace my income from teaching abroad.
Over the last four years inquiries had become much more frequent asking if I would consider teaching online via Skype.
Living in rural Ireland my internet connection just isn't fast enough to facilitate workshops in this way, and as a result I started looking at other options. (I did a lot of research to see what the various platforms were.)
I needed something that was easy to navigate for me and for my students but most importantly – given my poor internet connection – I wanted to be able to upload content without worrying that there would be technical issues hosting it myself.
R: What goal did you set for your courses? What did you hope to achieve?
N: For my first workshop I wanted to offer a course that would give participants a comprehensive foundation in eco printing.
This is a natural process where fabric or paper is wrapped with leaves, onion skins, seed pods, bark, and other hedgerow vegetation. The bundles are tied up tightly and then go through a simple heating process to help extract color directly from the organic matter in as environmentally friendly and health conscious a way as possible.
I wanted to facilitate a class that would equip the total beginner with the knowledge and confidence to repeat the process by themselves at home, yet provide the more experienced textile artist with plenty of 'aha' moments in a fun and supportive environment.
Where do you get your ideas for course topics?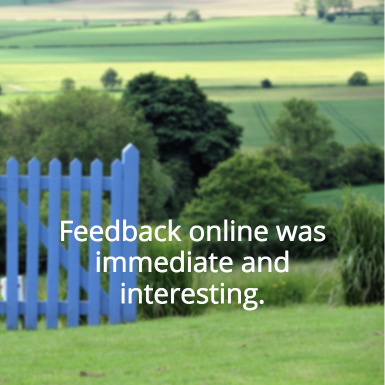 Because facilitating group and private felting and eco printing workshops was already something that I enjoyed doing in person, the main decision was how to translate them into the online class environment.
In the textile community, eco printing has been gathering incredible interest and momentum worldwide over the last few years.
I decided that the first workshop I offered would be an intensive foundation course sharing my personal methods. I asked questions of friends, past students, and Facebook followers to make sure that this topic would be of interest.
The second workshop that I wanted to offer was a felting class sharing a less physically demanding technique to achieve professional results — and the third would be a more advanced eco printing course.
Feedback online was immediate and interesting. I think that the timing was correct for me and I would like to continue to offer new courses as my own practice develops.
What's the biggest challenge you faced as you got your first online course up and running?
Technically the biggest challenge as I got my first online course up and running was my poor internet connection. As an example, it took me over 8 hours to upload a short 7-minute video!
Mentally the biggest challenge was understanding the reasons participants sign up for an online course, and tailoring the pace of the workshop to accommodate all takers.
What have you learned from that challenge?
From a technical point of view I realized that rather than editing my video footage into longer clips as I'd intended, I needed to break them down into shorter clips and upload more of them.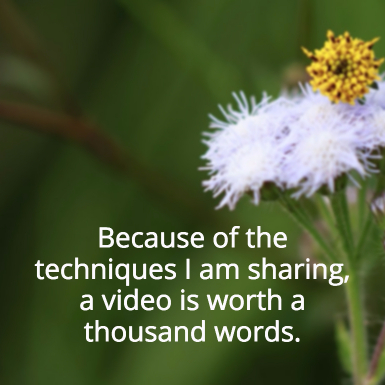 Because of the techniques I am sharing, a video is worth a thousand words to demonstrate particular parts of the process.
From the participant point of view I asked myself why certain people might be interested in participating in one of my workshops, besides wanting to learn new techniques.
Aside from the financial implications of attending a face to face workshop, I realized that lack of time is an issue for a lot of students.
Many of them are carers or have work commitments, and for that reason can't participate in a hands-on in-person class.
Others enjoy using Facebook but are not confident with new technology or navigating websites, whilst for others the slower pace of an online class is more suitable than an intensive hands-on weekend workshop.
For these reasons I decided to focus on breaking down my workshop into easily manageable modules providing enough challenge for the more experienced artist — but a supportive and encouraging environment for the less confident participant.
How has offering online courses impacted your overall business?
Hand on heart I can say that since I launched my first six week workshop in September, the impact on my business has been incredible.
I'd limited the number of initial class participants to 50, at an introductory price of $160. I really hoped to fill the class within a four week sign up period. Instead, the course sold out within 36 hours. I was staggered!
As a result I decided to edit and offer the same workshop over a two week sign up period towards the end of October at the full price of $220. I had 48 people sign up for that round.
Ideally I would have preferred to wait until the first class was finished before offering the second, but I wanted to run with the momentum I'd gathered and didn't want to wait until after the holiday season had ended.
Financially this has been life changing. It's very difficult to make a living wage as an artist or maker in a small country such as Ireland, and offering online courses opens up the world for me without ever having to leave my doorstep.
How do you build relationships and connect with your students?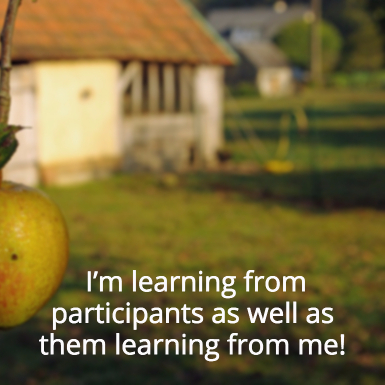 Building community within the workshops is very rewarding and interesting. I'm learning from participants as well as them learning from me!
Before I launched both courses I set up private Facebook groups where everyone could meet in advance of the course start date and get to know each other better.
I encouraged as many people as possible to join the group for their specific class but did stress that they were meant to be fun — and that membership was totally optional.
Within each module of the workshop, I've encouraged interaction by using the discussion prompts at the bottom of the lesson pages. This has proved helpful for developing a good atmosphere and friendship between the participants.
Some of the most fun bits have being seeing photos of the big pots and fish kettles that people have been scouring thrift stores to find to use for processing their bundles!
What are your plans for the future?
My first felting workshop launched on November 20th and I've almost finished writing the bones of the advanced eco printing class which should launch in December.
My plan is to offer a suite of classes for the beginner and more experienced textile artist — gradually adding new topics over the coming year. One class will follow on from the previous, and in that way I hope to build a loyal group of participants in addition to new students. Hopefully most of the students will stick with me and continue learning into the future.
Based on feedback, I'm also considering writing a workshop to help other creative practitioners get their first online class online using Ruzuku. Ruzuku itself provides excellent support at all times but some people need a critical eye and a personal touch from a peer to let them know they are on the right track.
What are your top tips for our readers who are trying to create and launch their first course?
Knuckle down and get started
It's very easy to get overwhelmed with ideas and never actually get anything done.
Think big and have confidence in yourself. Why shouldn't you launch your first course in a matter of weeks and have it fill up with willing students?
Make good use of the 2-week free trial
If you haven't already joined Ruzuku, identify a topic you want to offer as your first class then set yourself the target of writing the content during the trial period.
If you are already a member but haven't offered your first course, set aside two weeks for clarifying your ideas and getting your course underway. A tight deadline is a surefire way to get things done!
Don't procrastinate. I was on a really tight budget so it was essential for me to get my course online as soon as possible. I had the majority of my content ready to release by the end of the trial period but still needed another week or so to get everything finalized.
For this reason I decided to choose the Up-and-Comer monthly subscription option. Then, as soon as my participants started signing up I upgraded to the yearly option which made more financial sense. After the trial period ended, every day that I hadn't managed to get my course online was a day that I was losing money I didn't have — this kept me focused!
Build the foundation first
Once you've identified your topic, see how you can pare it back to the basics. It worked well for me to offer an intensive foundation course first and then follow it up with a more advanced class. This way you can break things down into manageable bite-sized pieces for participants and encourage them to join you for future workshops too.
Leave plenty of time for technology
Allow four or five days at the start of your workshop to guide participants through getting comfortable with the course platform and the way class content will be delivered.
It was amazing how many people needed help using the website even though there is wonderful support available from Ruzuku. People who are not confident on computers often don't realize there is a support button so they really do need to have their hands held at the beginning.
Be available for your students
Make yourself available to answer questions as much as possible and let your participants know that no question is too simple to ask. Don't make them feel stupid if they don't understand some part of the lesson.
Let participants know right from the outset that you will check all their comments and questions via the discussion forums, email, and Facebook every day — but make sure that they know your answers might be delayed due to time zone differences.
This way they can rest assured you will get around to answering their query, but not be so impatient that they send you multiple messages. (Believe me, this will happen!)
Charge what you're worth
Don't undervalue your offering. I recommend charging for your first course and making it the best you possibly can within the time limit you have set yourself.
In my previous teaching experience, any time I offered a free lesson or product the people who took advantage of the offer never followed up with a paid option.
It's better to have fewer people participate in your class who are prepared to make a financial commitment right from the beginning rather than more people participating for nothing.
When people put their hand in their pocket they are investing in their future and much more likely to put the time and effort into being an active class participant.
Be yourself, and have fun!
Have fun and don't be afraid to make mistakes! It's incredibly rewarding to see participants grow in confidence, and having fun is one of the best ways to make everyone feel part of a group.
Don't be afraid to poke fun at yourself when replying to comments.
Sharing problems I've had in my own studio has been one of the best ways of allowing participants realize that not everything goes according to plan all of the time. This gives them the confidence to make mistakes of their own and in this way gives them permission to experiment and not be too hard on themselves.
Where can readers find you online?
For anyone wanting to learn a little more about my practice and the workshops that I offer, you can find me on Facebook, my website, my blog, Twitter, Instagram and via my new workshop newsletter.
My first online felting workshop is now open for sign ups. I'm also offering a luxurious 10 day felting and eco printing residential retreat in Ireland in July of 2017!
From "starving artist" to profitable business
It can be frustrating trying to balance making your art and making a living.
But as you can see from Nicola's experience, it's possible — and it might even be a lot of fun!
Imagine what it would be like to have online courses that support your creative process.
So take a look at how you can teach your audience something that they'll pay to learn.
And before you know it, you'll be on your way to your first profitable online course!
What are your takeaways from Nicola's experience with getting her first course up and running? Is there anything you can apply to your business today? Let us know in the comments!