Admit it. You're stuck.
You have this great idea for an online course.
You know it will make a huge difference to your audience.
Maybe it's a relatively new idea… or maybe you've been toying with it for years.
Whatever the case, it's frustrating because you've never managed to get past the idea stage.
You get stuck on a technical glitch or aren't sure what you should do next. Or you get bogged down creating content or trying to decide how to market your course.
Before you know it, something else becomes a priority and life gets in the way.
Your idea ends up on the back burner for another few months.
And that's not a good thing.
After all, every day you delay, you're missing out. Not only could you have cold hard cash coming in from students, but you could also be getting the valuable experience that will help you build your course business far into the future.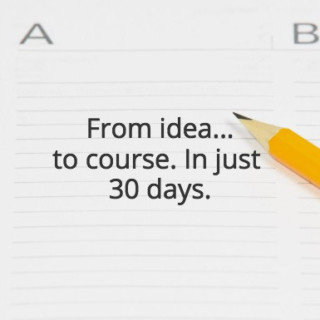 It's not something you can afford to keep putting off.
But what's the alternative?
And would it help if you could get your first course done in the next 30 days?
Seriously.
That's not a typo and you're not dreaming.
You can absolutely launch your first online course in 30 days — and this post will show you how.
You could be up and running faster than you imagine, and you could be well on your way to getting all your great course ideas off the ground.
After all, after your first course is done, the others will be a piece of cake, right? 😉
Let's break down exactly how to go from idea to completed course in just 30 days.
You'll find it's a lot like planning a celebration.

During the first week, you'll answer some of the most important questions about your course and set your groundwork in place.
Call out your people (Days 1-2)
This is where you define your audience. Focus on a specific person who has a distinct problem that you know you can help with. Who can't live without your offer? Whose life would change if they took your online course?
Hone in on the exact problem you'll help them solve (Days 3-6)
Think about the impact this problem has on your students' lives and the way they describe the pain it causes. What does it cost them to not have a solution? What will their lives be like once they have one?
No one cares what your course is "about" — they want to know how your course can help them get to a desired result.
Craft a tempting result (Day 7)
Now it's time to pick a working title for your course. It's best to choose a title based on the outcome you're promising. What is the most important benefit someone will get from completing your course? Can you use that benefit to craft a compelling title?
You don't have to keep this title forever, so don't get hung up on making it perfect right now.
You can now move into week two with a solid foundation to build on.

The second week is all about getting to work. You will also start to invite people to join your course — yes, already!
Map out your strategy (Days 8-9)
Create the first rough outline of your course. Don't worry about detailed content yet. You are just building the framework of your course first. You can fill in the particulars next week.
Start with a Welcome module, include anywhere from one to five learning modules, and finish up with a Conclusion module.
Slap a value on it (Day 10)
Early on, you'll have to decide whether your course will be free or paid.
Since this is your very first attempt at creating and selling an online course, start with a free course. It's the simplest way to get started and minimize the chances you'll get stuck along the way.
Prepare your invitations (Days 11-13)
It may feel scary to start spreading the word already, but when you have people with their "hands raised" to take your course, you create an expectation that you'll deliver value to them. Knowing that people are counting on you is powerful motivation.
And you don't need a big email list to get started. You can send an email to your personal network or your mailing list and write a couple of posts to share via the social media platforms you and your target audience are most active on.
Pull the trigger (Day 14)
It's time to push that button! Send the emails you have carefully crafted and get those social media posts out into the world. Keep a list of names and contact information for every person who wants to be included and let them know you will be back in touch with more details in around 2 weeks.
Take a deep breath — you're halfway through the 30 days! You have an outline to work from and people who are lining up to take your course. Are you excited yet?

Now it's time to really dig in, since you have students counting on you to deliver results!
Finalize the agenda (Days 15-18)
During the third week, you'll write and revise your lessons.
Keep it simple. Since this is your first course, your lessons can – and should – be very straightforward. What is the result that your student will achieve from each lesson? Include the minimum amount of content to help them achieve that result and then move on.
Make success inevitable (Days 19-20)
Think back to the clear result for each lesson. Provide straightforward action steps and exercises for your students to complete that will help them both take action and achieve the desired result. If your students don't take action, they won't get to their desired outcome.
Encourage participation (Day 21)
Students who actively take part and engage with the lesson material see better results from their course experience. What is one question you could ask or one prompt you could give for each lesson that will help them share their experience with you and their fellow students?
As you head into the final week, you'll have most of your course content ready to go. Now it's time to wrap up a few last details.

You've done a lot of great work so far. Now it's time to put the finishing touches on your course and get it in front of your participants.
Block off your calendar (Day 22)
Since this is your very first online course, it's best to start your course on a set date and follow a calendar-based schedule.
Have your Welcome material available as soon as your students gain access to the course. You can release the first module of content and activities later and the rest of the modules on a consistent schedule after that.
Fling open the doors (Days 23-27)
Send an email to every person who responded in week 2 with the link to join the course or any other information they need to take the first step. (This step will depend on what software, if any, you are using to host your course material.)
Plan to send a reminder email on day 26 or 27 to anyone who hasn't responded or signed up yet.
Welcome your tribe and run your course! (Day 28)
Your course launch is a pivotal moment for your participants. They just signed up and are wondering "now what?" Make sure that you give them clear instructions about the first step they should take as well as an uncomplicated roadmap through the course material and a calendar for them to follow.
And that's a wrap! You're now ready to guide your students through the course material and get them to the amazing results you promised.
Does it feel good to know you can actually get your first course done so quickly?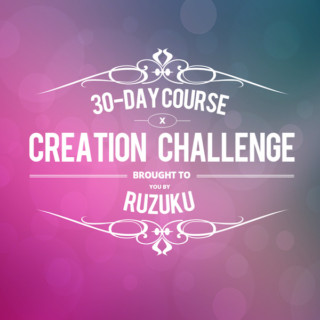 It should.
You should also feel a lot better about how doable this really is.
But maybe everything still feels a little overwhelming.
Maybe you have lingering questions.
Or maybe you just know that you work best when you have support, like-minded people to toss around ideas with, and accountability.
If that's the case, you're in luck.
If you know you want to finally finish your course in 30 days – no more delays, no getting sidetracked by whatever life throws at you this month – you have another option.
You don't have to do it all alone
So, what do you think?
Would you like to have your course done by October 7th?
I know that's an awfully specific date, but that's because we're getting ready to run this fall's 30 Day Course Creation Challenge!
When you sign up for the challenge, you'll get loads of fantastic additional resources as well as help from Ruzuku to get you across the finish line.
Plus, you'll have the support of a whole community of fellow course creators working through the program with you.
Are you ready to finally get that course idea out into the world?
Join the challenge today, and let's make it happen!