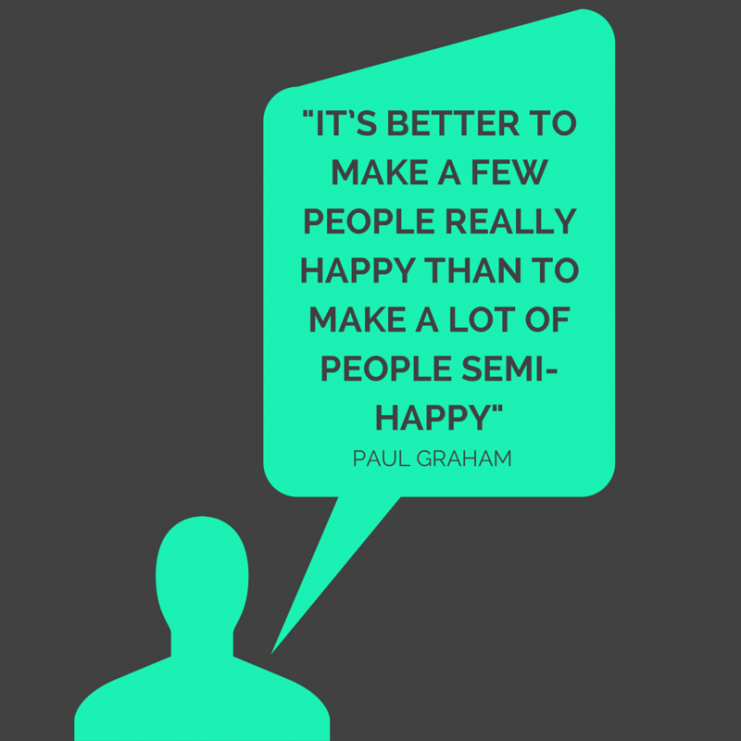 Have you heard of Y Combinator? It's the top startup incubator in the world. It's the launchpad for world-changing companies such as Dropbox, Airbnb, and Stripe.
Paul Graham is the founder of Y Combinator and a tireless advocate for the power of focus.
He says:
One of the things I always tell startups: it's better to make a few people really happy than to make a lot of people semi-happy…. Better to make a few users love you than a lot ambivalent.

[When you focus on making a few people really happy,] It's harder to lie to yourself.

You need to focus like a Y Combinator startup

How do you make a few people really happy with your course?

The key is to keep your program (especially if it's your FIRST online offering) concise, simple and focused.

Focused programs are:

easier to design
easier to create
easier to market and sell,
and easier to teach.

Yes despite the overwhelming benefits of focus, we continue to see people going in the opposite direction with their course design. It leads them right into quicksand.

There are two big reasons why people FAIL to focus

#1: Lack of clarity & specificity regarding who the course is for and the key benefits it will deliver.

#2: Trying to take on a HUGE scope — envisioning a brilliantly comprehensive program that will solve every problem, answer every question, and showcase every bit of their expertise.

How can you avoid these common failure points?

Design your course "backwards!"

How to start designing your course backwards

Typically, when we ask people to share their thinking about creating an online course or program, they immediately start talking about CONTENT.

"I'm going to present about X, Y, Z… and then we'll have this cool worksheet, and then…"

We'll get there.

But not yet.

It's too soon.

We need to start with the fundamentals.

Ask yourself: Who is your program for, and how is it going to help make a positive impact on your participants' lives?

To get really concrete about this, we're giving you a specific challenge.

We want you to think about a sales page for your program, BEFORE you do anything else.

This exercise will dramatically clarify your thinking, and prepare you to launch your program as soon as you can.

Your challenge: Answer these 6 key sales page questions.

Who are you serving? Who are you NOT serving?
What is the problem? Write down a problem you help people learn to overcome. Explain the problem in as much detail and depth as you can.
What is possible? Write down what's possible if your customer's problem is solved.
What are the top 3 emotional/psychological/spiritual benefits you hope to deliver?
What are 3 specific topics you will cover to help people get these benefits?
Imagine and write a testimonial from a future student…

Take action: Use our worksheet to write down your initial answers to these questions.

Then join 5 Steps to Your Online Course to get step-by-step guidance on designing a concise, simple, and focused course.

Let's hear your ideas…

We'd love to hear your ideas for designing learner-centered online courses: shoot us an email [abe AT ruzuku DOT com], tweet us (@ruzuku), or if you're a ruzuku instructor, join our private Facebook group to share ideas with your colleagues.