Have you ever felt a yearning to draw more?
To capture some of what you see in the world in your own sketchbook?
Sketchbook Skool is a series of online courses that unlock your ability to sketch, draw, and express yourself through art.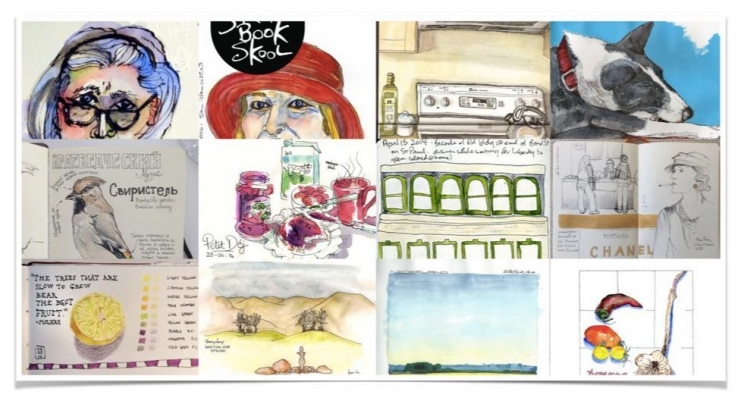 We're thrilled to host Sketchbook Skool on ruzuku and proud to feature them as the first selection in our Courses We ♡ series.
We spoke with Sketchbook Skool co-founders Danny Gregory and Koosje Koene to learn more about their story…
Who's behind Sketchbook Skool?
We are an online art school — of sorts.
One of many unique things about us is our "fakulty."
Each week of each course at Sketchbook Skool is taught by a different teacher, hand-picked from among the world's greatest sketchbook artists. We hope to have at least four semesters a year, each with a new group of teachers.
The fakulty of Sketchbook Skool are practicing artists, illustrators, designers, and art directors, who have all been keeping illustrated journals for years. They will teach and inspire you based on lessons they've learned from documenting their days, all around the world.
Six teachers every term, teachers who are the world's best-loved illustrated journalists, well-known on the Internet and in books and videos.
Who is Sketchbook Skool for — who are you serving with your courses?
Does this sound like you?
You remember drawing as a child and wish you could have that sort of freedom to create again.
You've been drawing for years but want some fresh inspiration. You can't draw. You have no talent. You aren't creative. And you need help. Perfect.
You have a cupboard full of unused art supplies. You just want to have fun and learn how to draw and be more creative and this seems like it could be a good time.
 … or If you don't fall into any of these categories, then you are as unique as Sketchbook Skool.
What courses do you offer?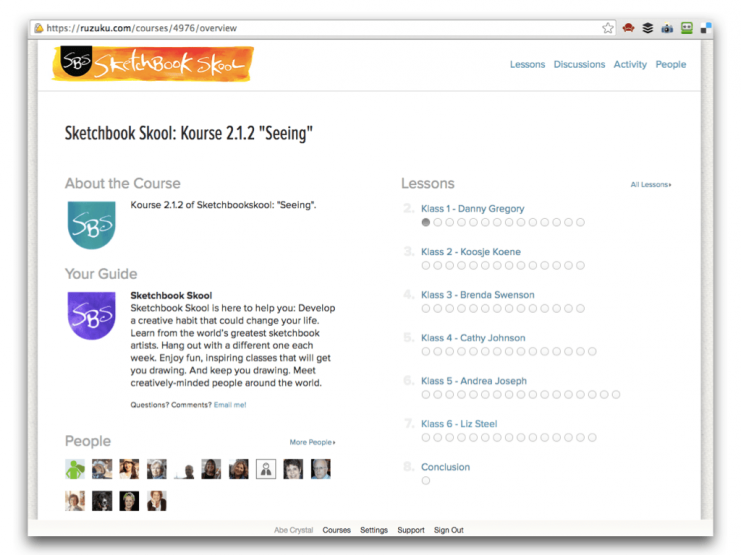 Beginnings
"Beginnings" isn't just for beginners — it's for anyone who wants a fresh start on making art. In this kourse, Danny talks about how to start a lifetime art habit. Koosje shows you joys of taking risks. Travel to India and begin to see the sky anew with Prashant. Jane will turn your sketchbook into the start of a creative odyssey. Roz will show you how to look at animals with a fresh eye. And Tommy will get you started on finishing the richest drawing of your life. Are you ready for a great new beginning? Join us.
Seeing
How does seeing affect us as artists? How can we see better? Danny will show you how your eyes and brain can collaborate better when we draw. Koosje will explore how we see ourselves through our art. Cathy will change how you see nature. Brenda shows you how to see your own life through your sketchbook's pages. Liz will forever change how you see building and teacups. And Andrea will help you see more in-depth than you ever thought possible. Get ready to see your world and your art in a whole new way.
Storytelling
Use your sketchbook to make rich, meaningful art that tells the stories of your life. Koosje will turn cooking a meal into a fun, illustrated story. Mattias will show you how to use your imagination to make whimsical drawings. Melanie will turn the chaos of NYC into rich, expressive stories. Jean-Christophe uses location sketches in Paris to make a beautiful work celebrating his family. Veronica captures stories in gestures and body language. And Danny takes you across the USA in a ten-day drawing extravaganza. Get ready to tell your story! What's unique about your courses? Sketchbook Skool has an incredibly supportive community. You can post a sketch — then get encouragement and ideas from other enthusiastic learners, from around the world. It makes the solitary process of sketching social and fun.
How to learn more about Sketchbook Skool and their courses
Go to Sketchbook Skool to learn more about their courses and team.
You can register for any of their 3 courses on ruzuku: